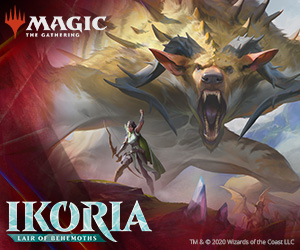 Ikoria At-Home Pre-Release: Sealed
Magic: The Gathering
Tournament
2020-05-16
13:00:00
This is a ticket for entry into the Ikoria: Lair of the Behemoths pre-release event. With purchase, you'll receive a pre-release kit containing 6 packs, a spindown die, and a special promo. We will be open for curbside pickup on the 15th, or we can ship your pre-release kits to you. This event will take place over Discord. Use of a webcam is required.
There are no prizes for this event beyond the pre-release kit.
50
If you don't have one, you can sign up here.